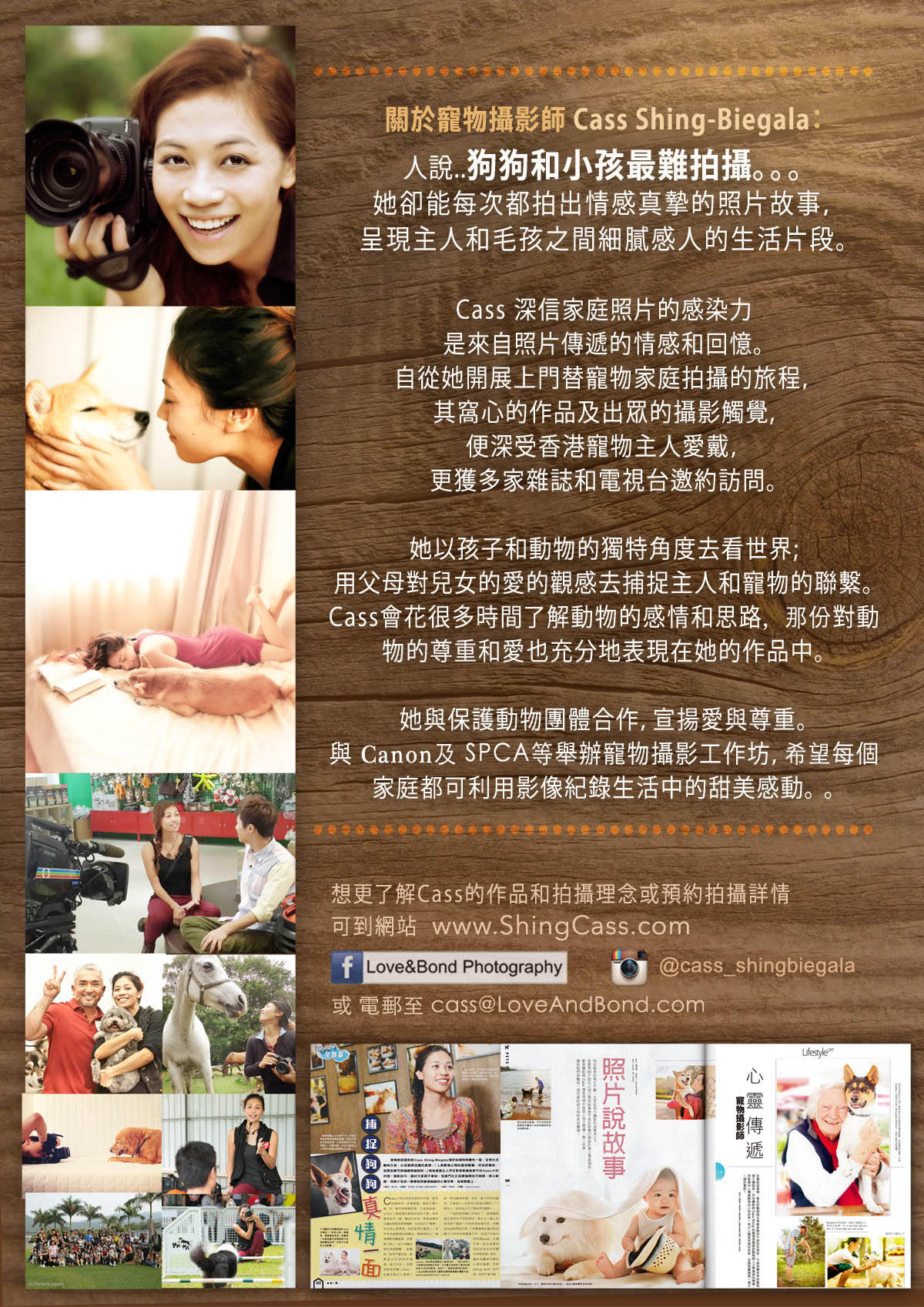 I Cable Interview 有線電視專訪

………….
HK01訪問
 香港01訪問-人寵故事 : 動物簡單也快樂-人要學懂活在當下-寵物攝影師用愛衝破灰色世界
香港01訪問-社區 : 反思肉食-港女生波蘭發現小牛鼻環秘密-抱起母雞重新感受生命
………….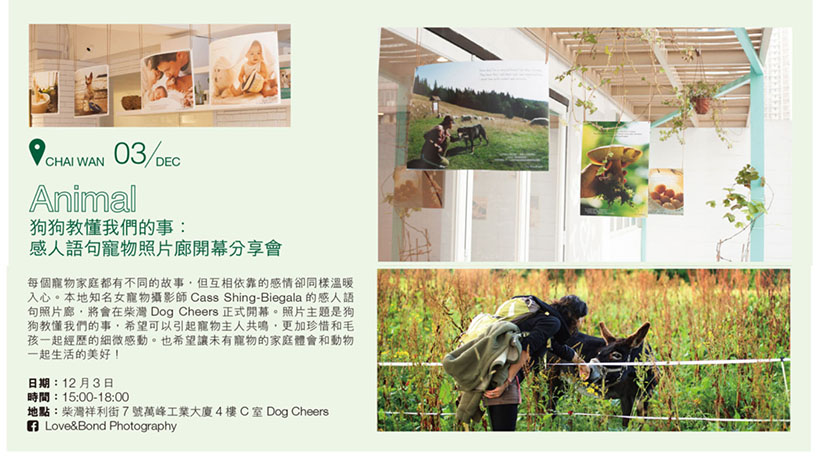 ………….

MetroPop issue 417  Click image to read more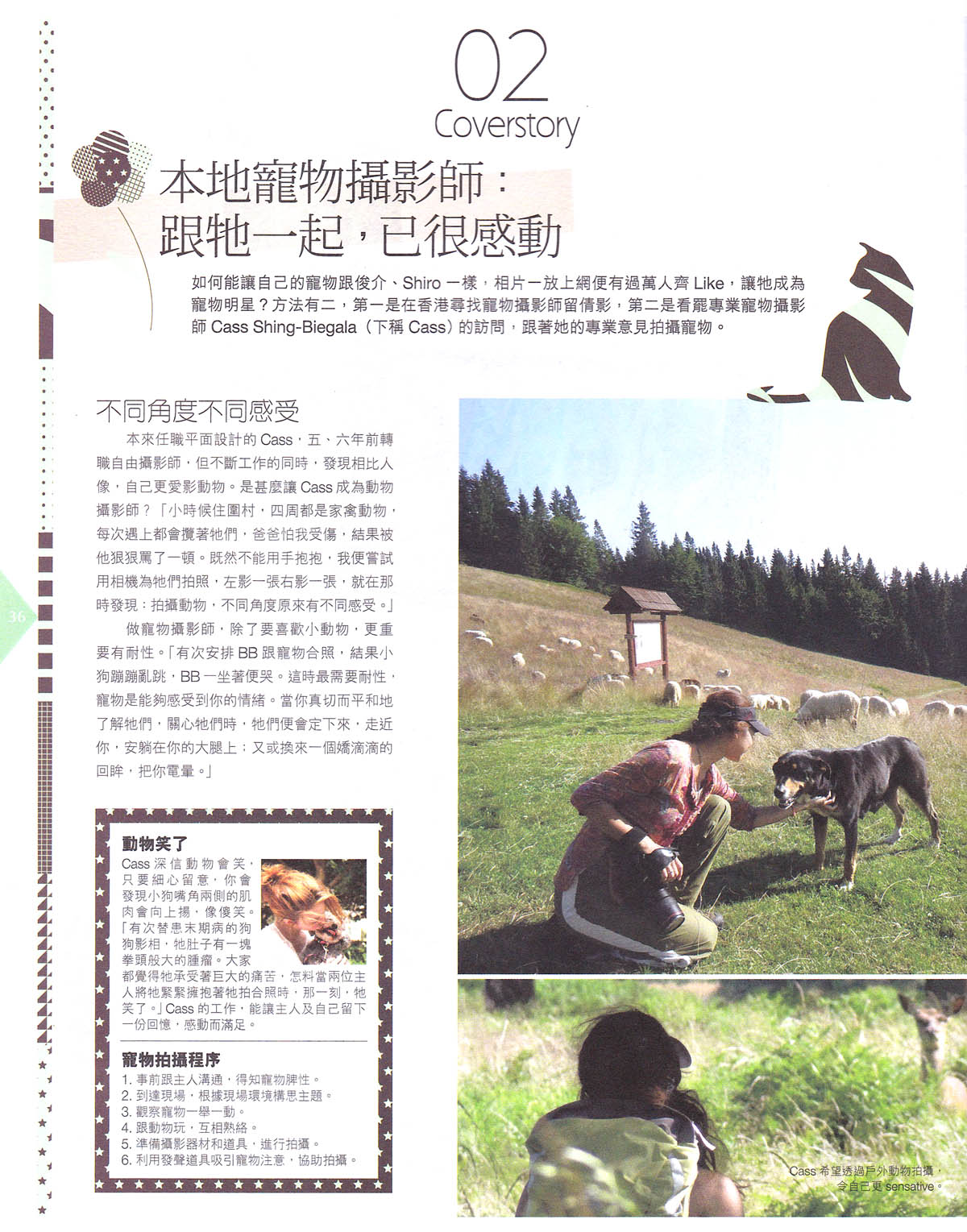 U Magazine Issue 487  Click image to read more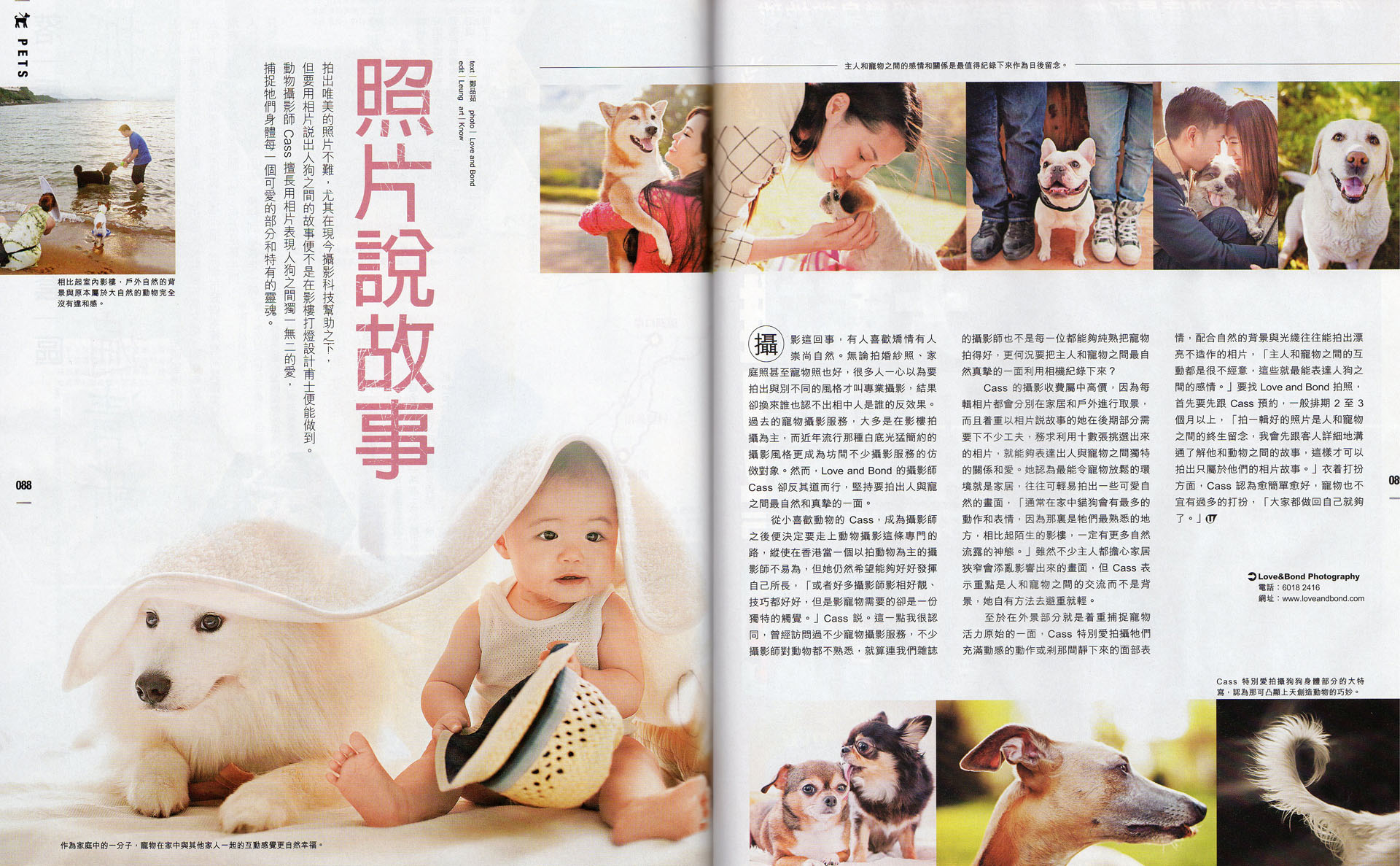 Next Magazine Issue 1317
壹傳媒訪問 Next Media Video Interview Click HERE to watch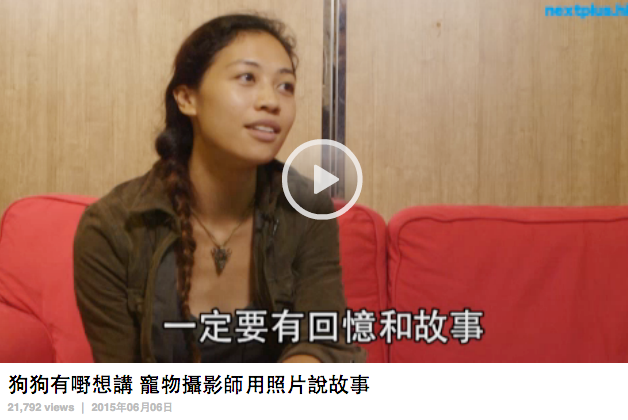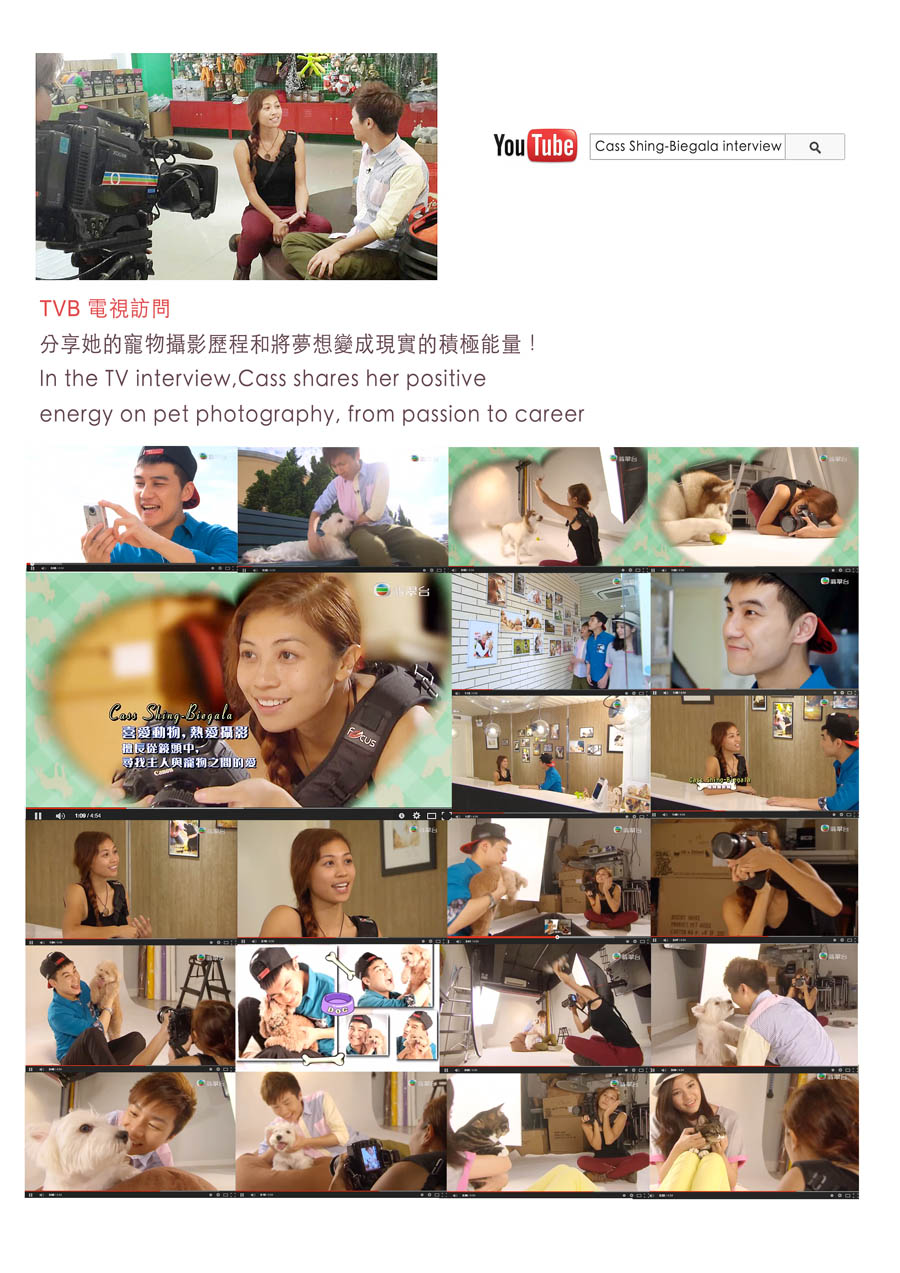 Dog Magazine Vol.243, Apr 2014  Click HERE to read more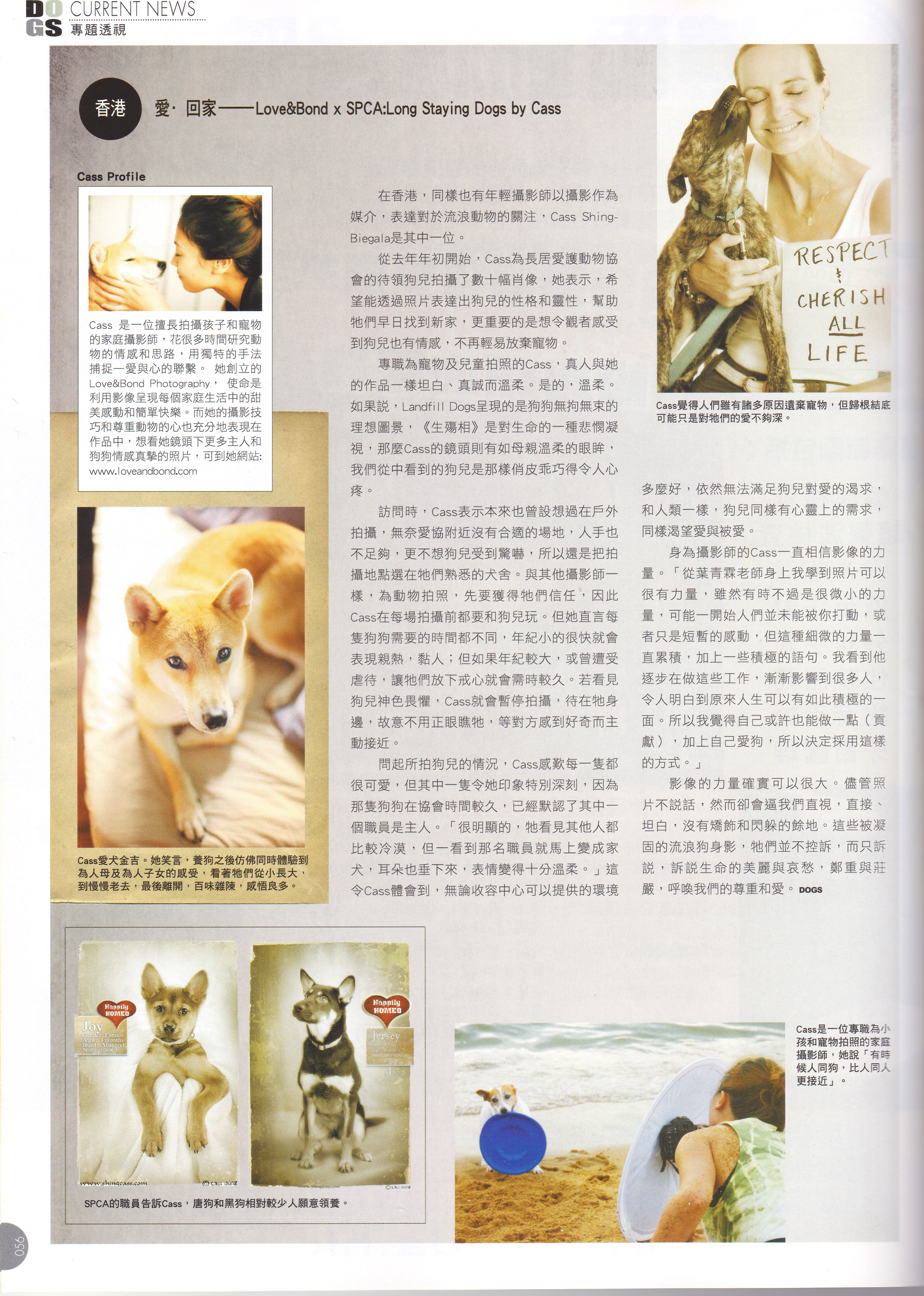 Canon X DCFever X Fillens Pet Photography Workshop  Click image to read more

Canon Focus eMagazine  issue.84, March 2014  Click HERE to read more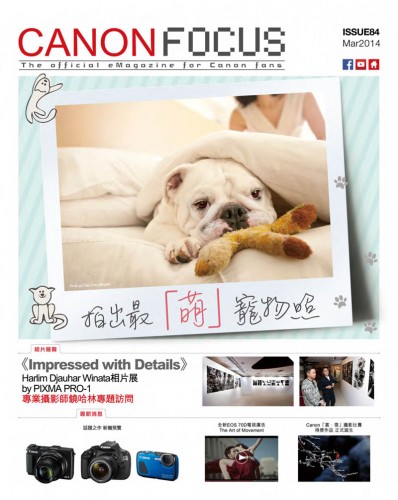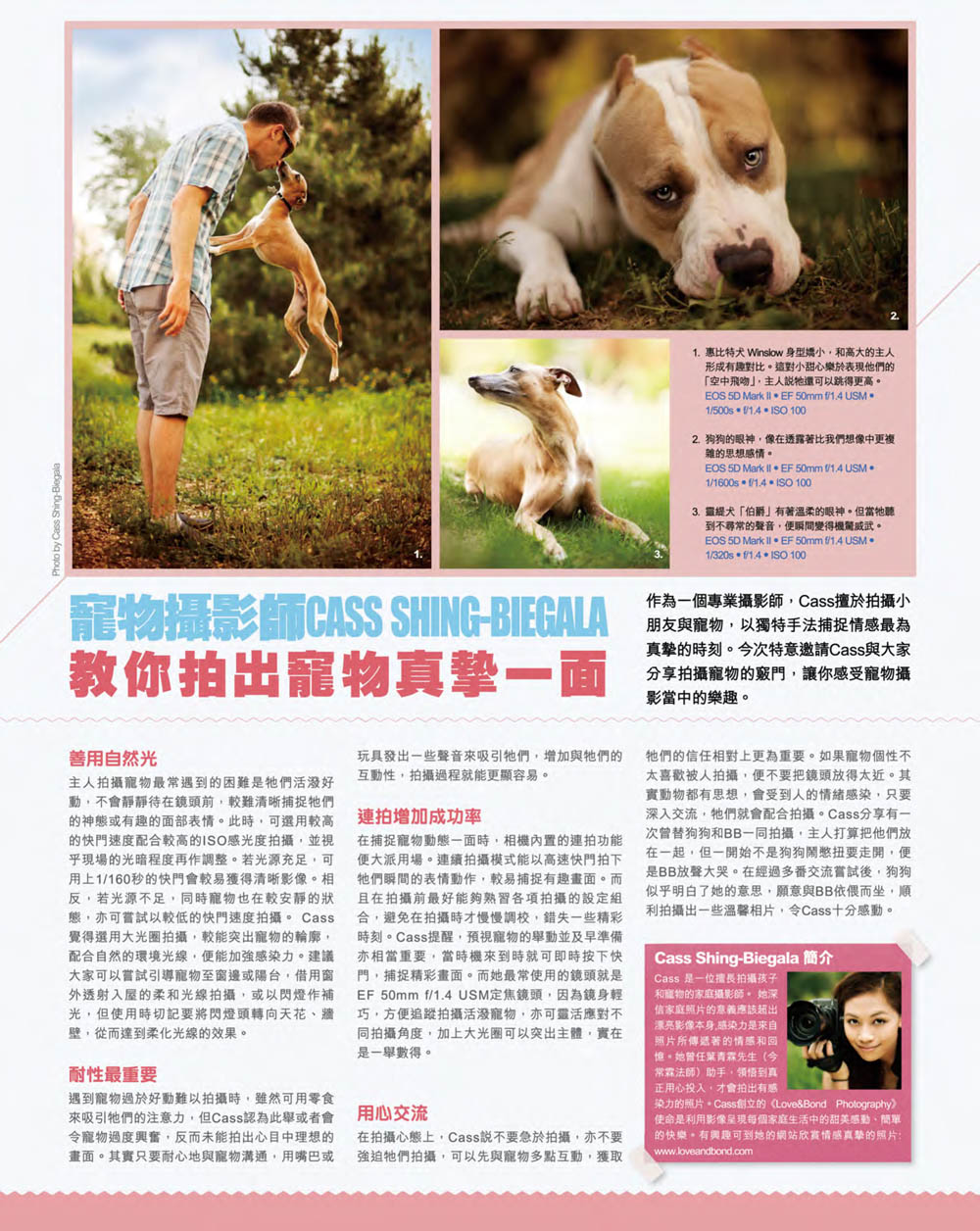 Fillens 華人女性攝影雜誌 Vol.24, DEC 2013 Click HERE to read more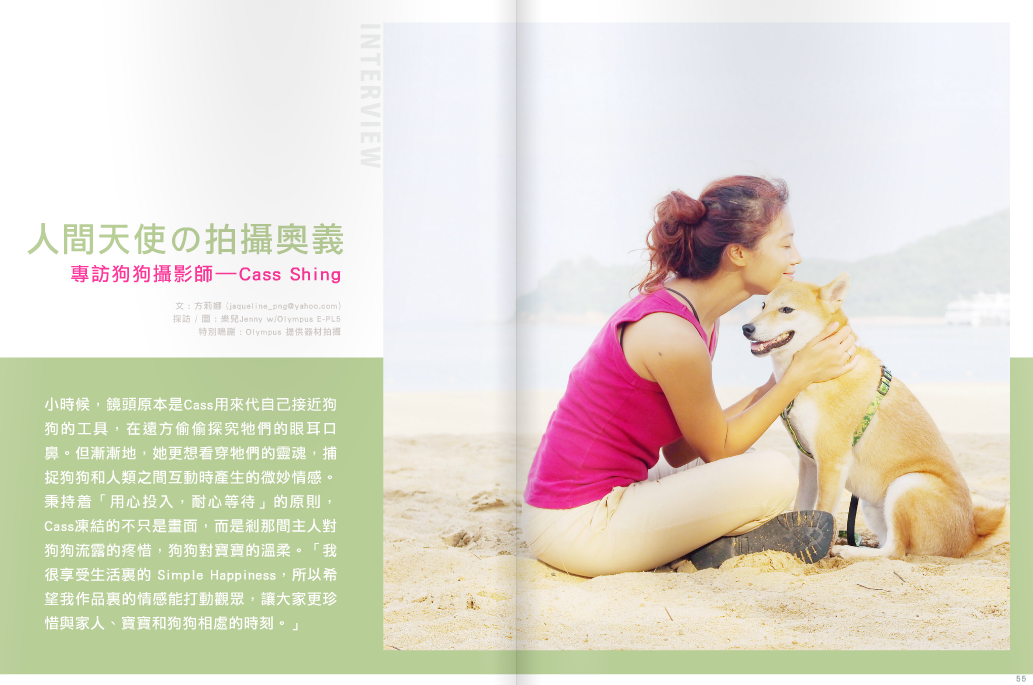 SCMP Young Post , 13 July 2013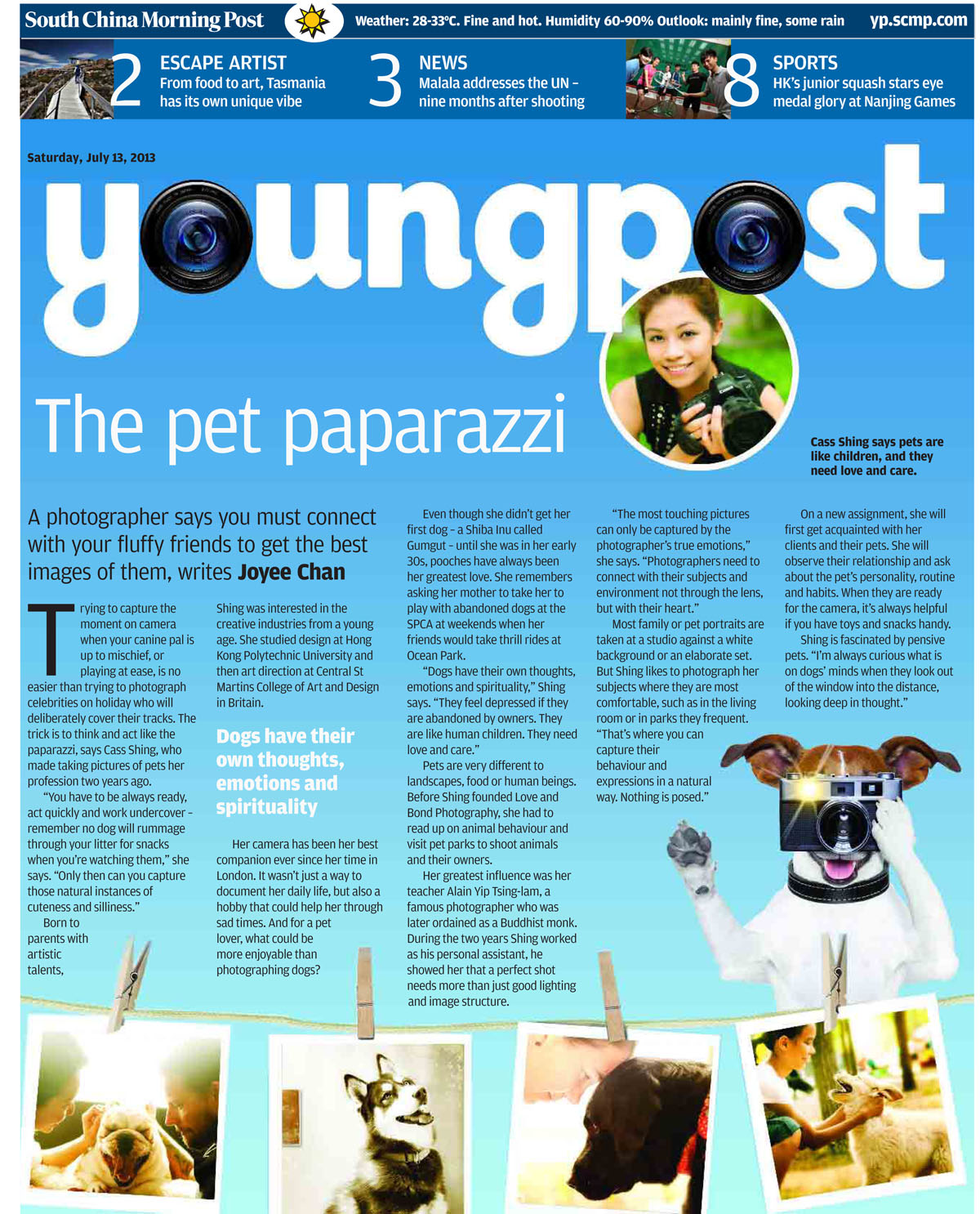 Cosmopolitan Magazine June2013 Issue Click HERE  to read more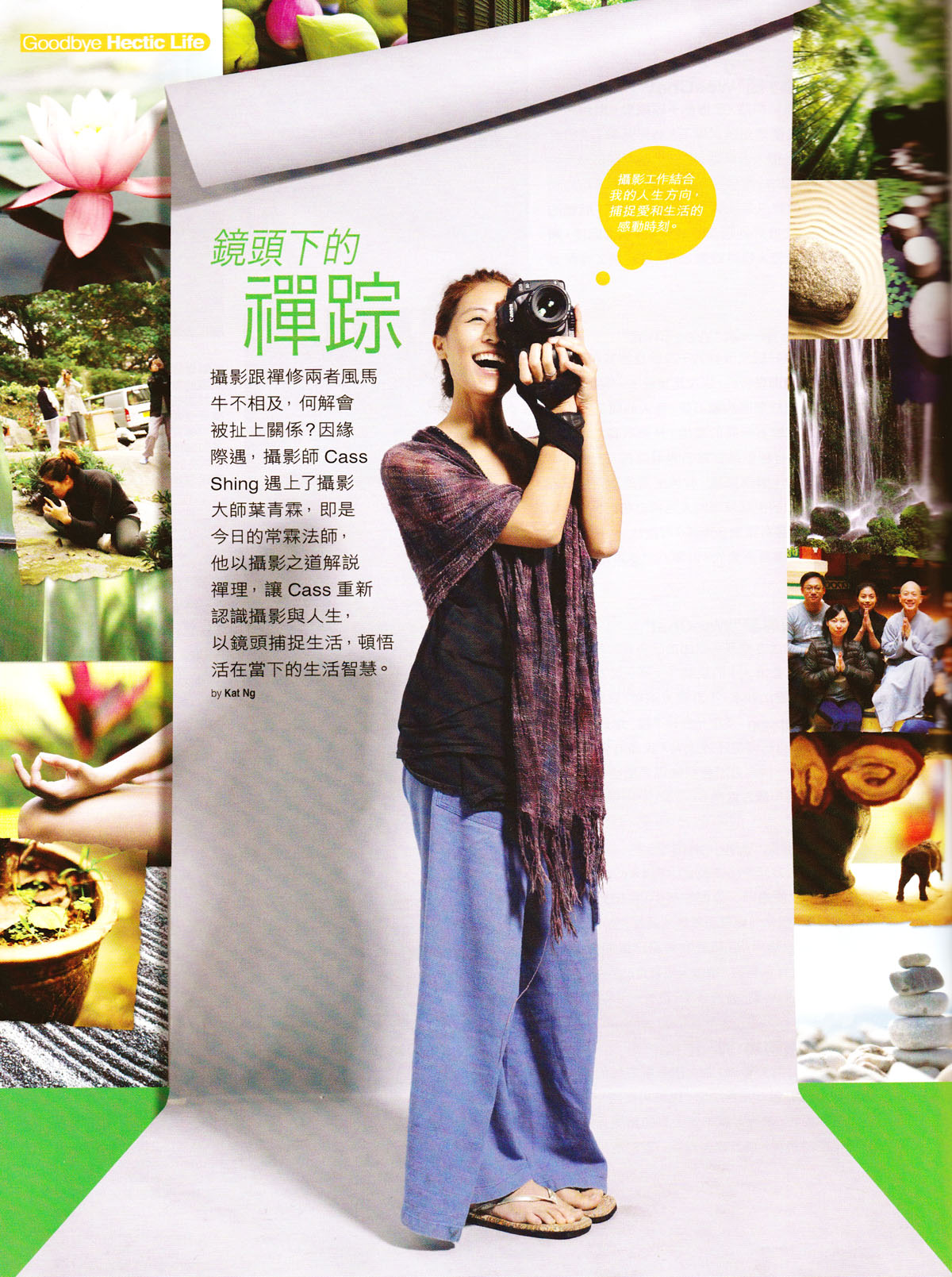 Around DB Magazine June Issue Cover Story Click image to read more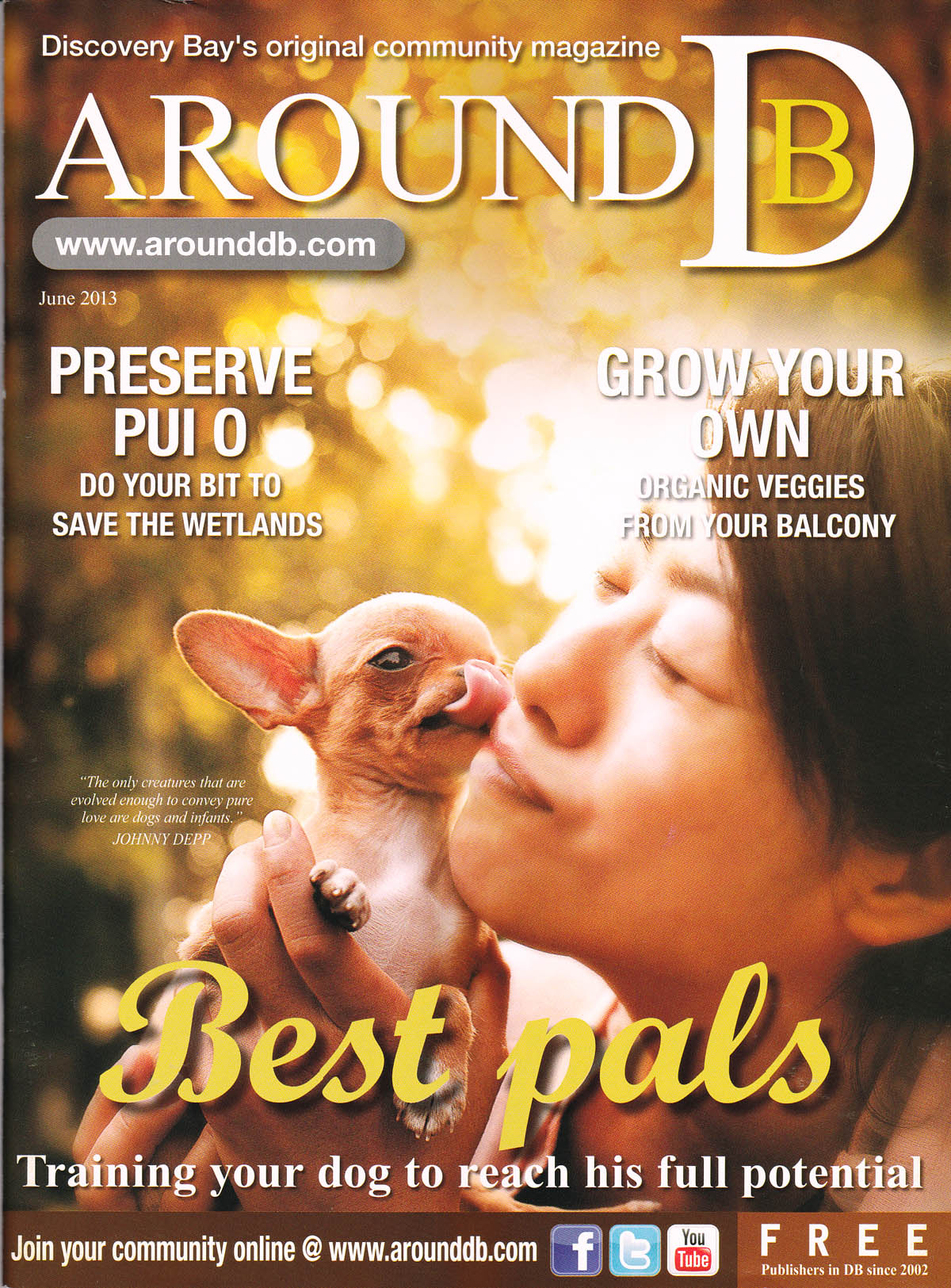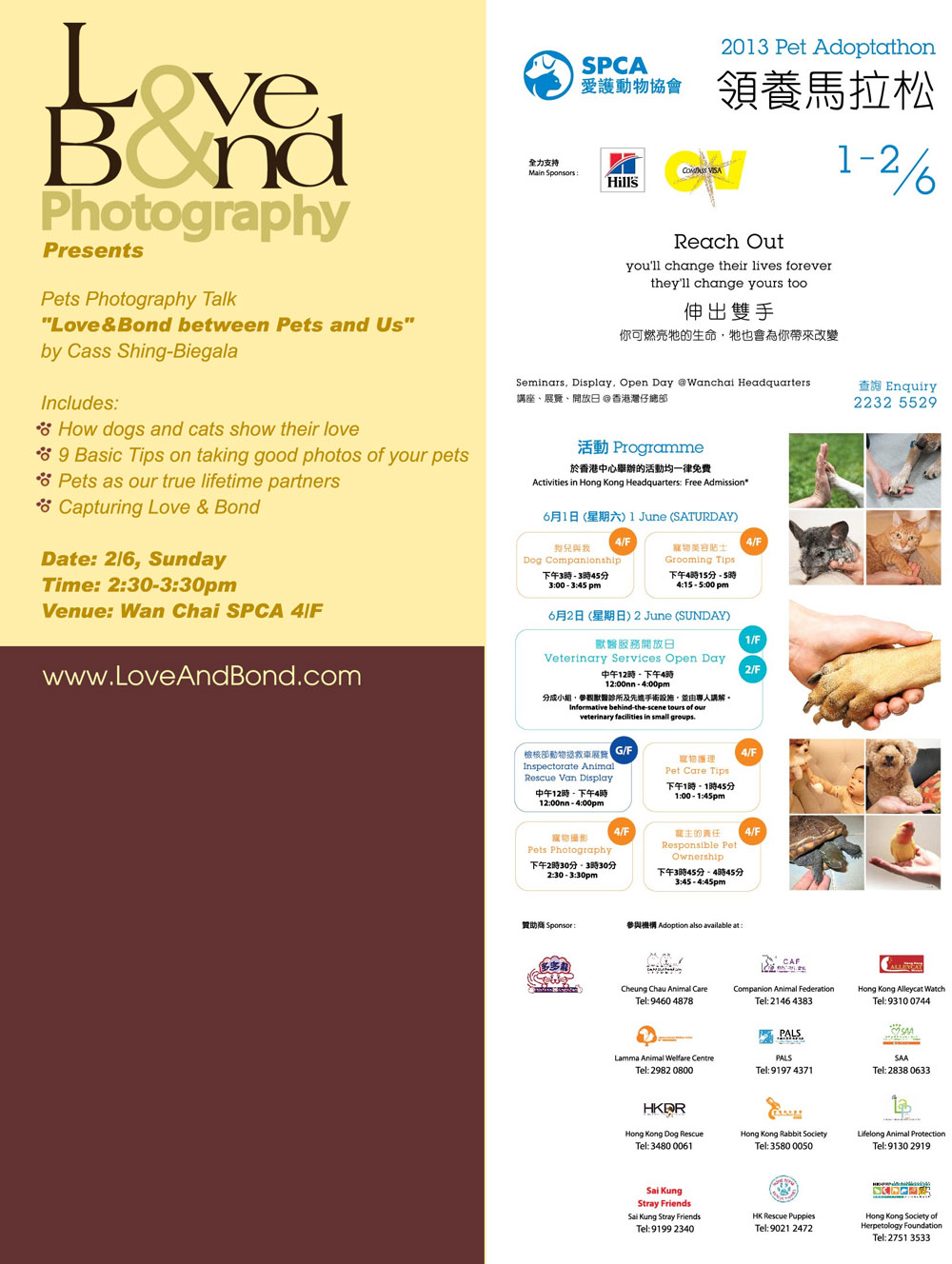 HK01 interview – about her pet photo Gallery with positive message
HK01 interview – about her touching experience with animal & nature in east Europe
i-Cable TV Interview
Sudden Weekly Magazine– How Cass communicates when she's taking photos.
MetroPop Magazine  – Issue 417 a CoverStory about Pet star, an interview about how Cass connects to pets and animals.
<從倀雞妹到零零狗> Book ﹣ Photography by Cass. The book is about a heartwarming story of  "009", the doggie star, and her owner.
TVB interview – a TV interview about Cass' pets photography and passion.
Canon Pet Photography Workshop – Cass was invited to be the guest tutor and the judge of pets photo contest.
Dog Magazine – an article about Stray Dogs PhotoProject in US,TaiWan & HK.
Canon Focus – official Canon eMagazine  interviewed Cass about Pets Photography Tips.
SPCA – Homing Animal Portrait Projects on SPCA web site
Fillens – A Female Photography magazine. A Sharing on taking photos for Pets & Kids.
SCMP Young Post– A Youth reporter's view about Cass's Pets photography .
Cosmopolitan Magazine – June feature about Photography & Zen Meditation.
AroundDB Magazine– Photos on cover story and tips about connecting to dogs.
MetroPop Magazine – A life style + culture magazine featuring on "mindful communication" of her Pets Photography.
Oh Shoot – A Book about Everyday Life Fun Photography
MeanTime Magazine – An art and design e-magazine featuring on Cass's Kid's Photography.
PhotoG Magazine – A Hong Kong Photography Magazine featuring on her Emotional Travel Photography
Bio
Cass Shing-Biegala is a talented Pets and Kids family photographer, she has a very unique way to capture moments of  love and bonds. She studied art at one of the best school in England. Intelligent, knowledgeable and passionate. Cass has over 10 years of experience in emotive photography. She has experience and skills,  a sensitive loving heart for babies and dogs.
TV and Magazines interview Cass about her beautiful photography approach and the touching stories behind the scenes.
With her curiosity,empathy and sensitive mine, she tries to see the world from the kid's & Pet's perspective.  She communicates not only with the parents, but also with kids and pets in her special way. "I cannot communicate with them by language, so I connect and sense their needs by heart and love."
Cass studied design at Hong Kong Polytechnic University. She obtained The Jockey Club Scholarship with her creative talent and positive energy. The scholarship made it financially possible for her to pursue for art direction in Central St.Martins College of Art and Design in London. She worked in Alain Yip Photography, Tim Yip Productions and in a number of organizations on various kinds of art and photography projects.
Cass grew up in an artistic environment. Both her parents studied Fine Arts. Mother was a graphic designer, influenced Cass with her artworks. Father is a wise man and always gives non-sense creative answers; it taught her literal thinking day by day, finding different points of view, and extraordinary solutions.
Cass is a nature person, live with love & respect to animals, gratitude to our mother earth. She supports various charities, cares about animal rights and environmental issues.
People inspiring her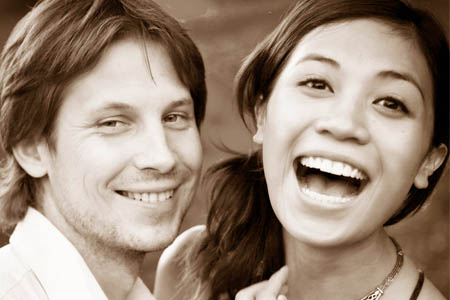 My Husband:  Mati encourages me with his whole heart to follow my passion  . We spend precious time together sharing dreams in life, supporting each other in ups and downs. He cheers me up in every way he can.  And he always buys me great books about animals !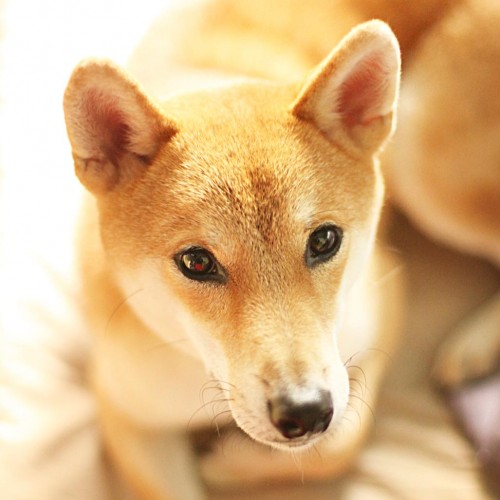 My Dog:  GumGut  is my another angel and love, giving me joy with his cute & strange behavior , and putting his jaw on my lap when I am down or frighten my cockroaches.
Walking in the green, lying & running on beach, eating pizza……These two lovely guys inspire me in everyday life about love and happiness.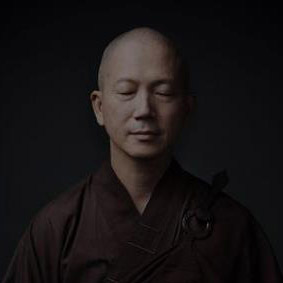 My Life Mentor:  常霖法師 Venerable Chang Lin ( also known as  Alain Yip)
Mr. Alain Yip, the renowned photographer, is my life teacher inspiring me to view the world at a wider angle, see things in a different way. I was his personal assistant for years. Experiencing Alain's own philosophy behind his photos, I understand photography should go beyond the image itself. I was fascinated by how his photos impressed and brought positive energy to the world. He showed and inspired me that I can also "make a better world" by spreading joy & love with my photography and my passion.
 
 Let's Re-Discover Simple Happiness in life !!!
Cass also do artworks to celebrate the happiness in life and inspirations from nature .Click HERE to see her works.